On April 25th evening, at the Can Tho Promotion Center, the opening ceremony of the seventh Southern Folk Cake Festival in 2018, themed "The origin of the homeland cakes" was organized. The festival took place from April 25th to 29th 2018.
It was an annual national cultural and festival event introducing, promoting and preserving traditional cakes with local and international visitors. It was also an opportunity for visitors to experience the culinary culture of the South.
The festival attracted the participation of more than 200 booths introducing traditional cakes, folk cuisines, regional specialties and industrial products for making cakes of units, enterprises and craftsmen from Can Tho city and 20 cities and provinces throughout the country and 7 foreign countries, such as Japan, France, Malaysia, Korea, Thailand, Indonesia and Italy.
Besides, the festival had special areas for cuisine such as area for displaying traditional cakes and reproducing ancient space with tools for making cakes and artisans show how to use these tools, such as milling, pounding sticky rice, etc., area for traditional cakes of Southern ethnic groups (Kinh, Hoa, Cham and Khmer), area for sweet soup to show and sell nearly 50 types of sweet soup and traditional drinks.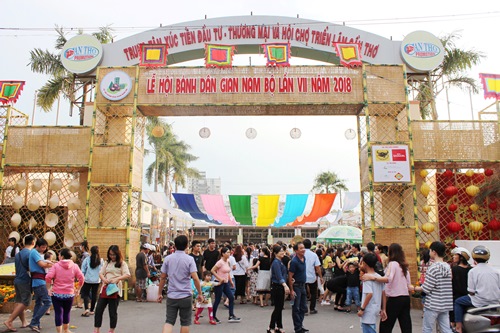 In the framework of the festival, many other activities were organized including a Southern traditional cake-making contest, folk games, folk music and so on. The Organizing Board also reproduced "Southern Traditional Cake Street," "Southern Traditional Cake Buffet." 32 artisans were coming from 9 districts of Can Tho city and provinces in the Mekong Delta participated in the contests, and 37 types of cakes were displayed to the visitors.
At the opening ceremony, Mr. Le Van Tam, Vice Chairman of Can Tho City People's Committee said that the seventh Southern Folk Cake Festival had become a special feature of the city, a culinary cultural highlight of the region. It had both traditional and modern features. By the festival, the city has promoted images of the land and people, introduced typical traditional cakes, preserved and developed the culinary culture of Southern people as well as the national brand names.
Le Minh